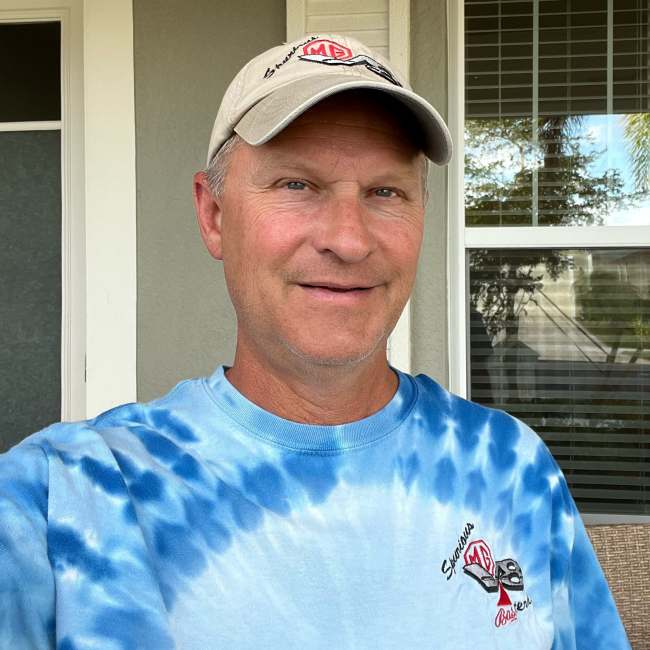 MGB V8 & Modified Registrar
MG V-8's can be divided into three distinct categories, the original factory cars, which were built from 1973 – 76, RV8 which were built from 1992 – 1995 and the more numerous "conversions" which have transplanted V-8, V6 and modern high performance 4 cylinder engines. The genesis of the MG V-8 lies with an English automotive engineer and racer named Ken Costello. Ken discovered an aluminum V-8, (1961 – 63 Buick 215 c.i.d.) on the floor of a friend's car shop in the U.K. Immediately consumed with the idea of installing this lightweight beauty in an MG, Ken accomplished the task in just a few weeks. The results easily surpassed his expectations. Because the aluminum V-8 was actually 30 lbs less in weight than the 4 cylinder cast iron engine it replaced, the car's handling remained unimpaired. With the horsepower almost doubled, even with a stock V-8, the acceleration was on par with very highly tuned (hence expensive and/or unreliable) racing 4 cylinders. The V-8 responded well to some mild tuning while retaining excellent "drivability".
The Factory MGB/GT V8
During the period from 1973 to 1976, almost 2,600 MGB/GT V-8's rolled out of the Abingdon plant. The cars were powered by the Rover 3.5 liter aluminum V-8, which was a descendent of the Buick/Olds 215 engine. A specially designed four-speed MG transmission was used, with Laycock overdrive fitted as standard equipment. The rear end gearing was changed from the MGB's 3.9:1 to a lower 3.07:1 which could take advantage of the V-8's torque while delivering much improved highway cruising RPMs and gas mileage. With the exception of a few roadster prototypes, all of the V-8s were the hardtop GT model, as some of Rover's engineers believed that the open top roadster body did not have the torsional stiffness to accommodate the V-8's power (This was incorrect). Most of the factory V-8s were consumed by the home market with some going to Europe and Australia. There are currently about 30 factory V-8's in North America. They are highly prized and almost rarely available for sale.
RV8 Factory Cars
From 1992 – 1995 Rover produced 2,007 RV8 models. These cars have a 3.9L Rover V8 and updated MGB roadster styling. Almost 80% of these cars were exported to Japan. As RV8s come up for sale on the internal market that are being imported into North America.
Conversion V8s
Conversion of MGs, particularly roadsters, has always been popular in the U.K. and there are a few thousand plying English roads. Here in the States, the MG V-8, V-6 and modern high performance 4 cylinder conversions are enjoying a surge of popularity. There are an estimated 500 conversions finished and running with another couple of hundred either being built or in the serious planning stages. Parts for the conversions are readily available from a variety of American and U.K. sources. The aluminum V-8, either the Rover version or its predecessor the Buick/Olds 215 are fairly easy to find and generally reasonably proceed. Ford 302 and GM Gen 3 or 4 LS V8 are also popular, more modern V8 engine options. The easiest MGs to convert are the 1977 to '80 models, as the engine bays are already built to accommodate the V-8, the radiator and engine mounts are usable and the conversion is almost a bolt in installation. Earlier models require some massaging of the firewall and engine bay sheet metal, but this is still within the abilities of most DIY hobbyists.
Conversions range from factory car replicas to 350 H.P. road rockets. Transmission choices vary from the stock MGB 4-speed to both Rover and GM T-5 5-speeds. There is considerable leeway in exhaust systems, carburation, rear ends, suspensions and brakes with each builder's constructing the car to his/her tastes and desired performance level.
Sources of conversion information are easy to access. The britishv8.org website has how-to articles, detailed information on parts and sources, owner reports in a popular "How It Was Done" format, searchable archive of back issues, a very large online photo gallery, and an active message board and other conversion information. The British V8 community also holds an annual national meet, and all enthusiasts are invited to attend. Complete information on the meet is available on the britishv8.org website.
There is a book titled "How to Give your MGB V8 Power" by Roger Williams, ISBN: 9781904788935, and is now in it's third edition. You can find info on it at: Veloce Publishing.