The North American Council of M.G. Registers hosted MG 2021 from June 14th-17th 2021, in Atlantic City, New Jersey.
A joint event of the North American MMM Register, the New England MGT Register, the North American MGA Register, and the North American MGB Register
MG2021 was the sixth gathering of MG enthusiasts hosted by the North American Council of MG Registers. There are a lot of good genes in its pool…that of MG96, MG2001, MG2006, MG2011 and MG 2016.
Details of some special awards and the full class results are provided below.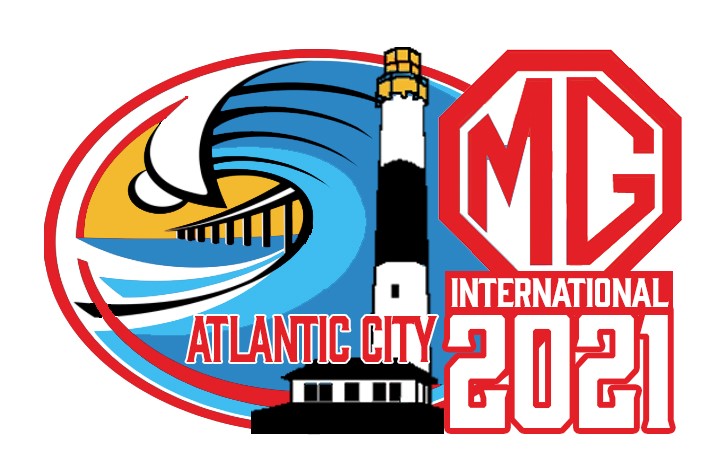 MG 2021 NAMGBR Class Winners
CLASS 401 – MGB Mk I 1962 to 1965 (Pull Handle)
First Place – David Trout – 1965 MGB
Second Place – AvivA Hoffman – 1963 MGB
CLASS 402 – MGB Mk I 1965 to 1967
First Place – Steve Meisel – 1967 MGB
Second Place – Nicholas Ferrant – 1966 MGB
CLASS 403 – MGB Mk II 1968 to 1969 (Chrome Grille)
First Place – Ed Katz – 1969 MGB
CLASS 404 – MGB Mk II 1970 to 1972 (Recessed Grille)
First Place – Guido Battaglini – 1970 MGB
Second Place – John Moore – 1970 MGB
Third Place – Richard Gross – 1970 MGB
CLASS 405 – MGB Mk II 1973 to 1974 (Honeycomb Grille)
First Place – Ron Parks – 1974 MGB
Second Place – Dave Wilson – 1973 MGB
Third Place – Laura Magnuson – 1973 MGB
CLASS 406 – MGB Mk III 1974-1/2 to 1976
First Place – Alex Ollerman – 1976 MGB
CLASS 407 – MGB Mk IV 1977 to 1978 (Early)
First Place – Carole Looft – 1978 MGB
Second Place – Jon Smith – 1978 MGB
Third Place – Simon Dix – 1977 MGB
CLASS 408 – MGB Mk IV 1979 to 1980 (Late)
First Place – Steven McDowell – 1979 MGB
Second Place – George Barbari – 1980 MGB
Third Place – Randell Shuck – 1979 MGB
CLASS 409 – MGB – LE 1979 to 1980
First Place – Melissa Gonzales – 1980 MGB LE
Second Place – Terrance Orr – 1980 MGB LE
Third Place – John Emery – 1980 MGB LE
CLASS 410 – MGB-GT – 1965 to 1971 Chrome Bumper-Non-Vented Dash
First Place – Abraham Cheij – 1971 MGB/GT
Second Place – Thomas Himmelsbach – 1970 MGB/GT
MG 2021 NAMGBR Class Winners
CLASS 411 – MGB-GT – 1972 to 1974 Chrome Bumper – Vented Dash
First Place – Steve Sharpe – 1972 MGB/GT
Second Place – William Arnold – 1973 MGB/GT
Third Place – Nicholas Ferrant – 1973 MGB/GT
CLASS 412 – MGB-GT – 1974-1/2 – Rubber Bumper
First Place – Ray Holtzapple – 1974 1/2 MGB/GT
Second Place – Brandon Fox – 1974 1/2 MGB/GT
CLASS 413 – MGB FACTORY V8
First Place – Pete Cosmides – 1974 MGB/GT V8
Second Place – Anthony DeBella – 1974 MGB/GT V8
CLASS 414 – MGB Modified V-8, V-6, Etc.
First Place – Zachary Merrill – 1966 MGB/GT
Second Place – Joseph Dowley – 1973 MGB
Third Place – Leeann Looft – 1966 MGB
CLASS 415 – Midget/Sprite – 1961 to 1974 – Chrome Bumper
First Place – Shane Absher – 1967 Midget
Second Place – Philip Burke – 1972 Midget
CLASS 416 – Midget – 1975 to 1979 – Rubber Bumper
First Place – Calvin Jackson – 1978 Midget
CLASS 417 – MG 1100/1300 – All Years
First Place – Torey Looft – 1967 MG 1100
Second Place – Ryan Looft – 1965 MG 1100
CLASS 418 – MGC – All Years
First Place – Charles Muller – 1968 MGC
CLASS 419 – MGC-GT – All Years
First Place – Bruce Fehlman – 1968 MGC-GT
CLASS 420 – Post Abingdon – All Years
First Place – Terry McClain – 1993 MG RV8
CLASS 501 – Other British – All Years
First Place – Diana Gonzales – 2020 MINI Cooper