The North American Council of M.G. Registers hosted MG 2016 from June 13th-17th 2016, in Louisville, Kentucky!
A joint event of the North American MMM Register, the New England MGT Register, the North American MGA Register, and the North American MGB Register
MG2016 was the fifth gathering of MG enthusiasts hosted by the North American Council of MG Registers. There are a lot of good genes in its pool…that of MG96, MG2001, MG2006, and MG2011.
MG2016 – "Maintain the Breed"!
Details of some special awards and the full class results are provided below.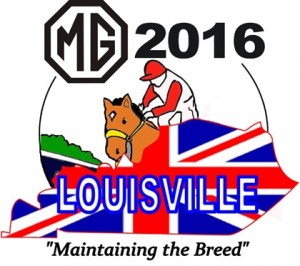 Thornley Award
John Thornley "Spirit of MG" Award is given at the Annual Convention yearly to the person displaying the spirit and enthusiasm of MG.
This award is a framed original oil painting by Dennis Wharf of the first works MGB GT to compete in an international event, LBL 591E was placed in the prototype class of competition at Sebring. The painting was a gift to NAMGBR from the MG Car Club, MGB Register in England, presented by John Watson, of Abingdon, England to the North American MGB Register at MG96 in Indianapolis, IN, it was decided to be given on loan to the current recipient with the understanding that it is their responsibility to have the print at the next year's annual convention to be presented to the next recipient.
At that time a plaque with a reproduction of the painting is created and given to the last year's recipient of this honor, with their name and dates on it. This plaque is theirs to keep.
The award recipient is chosen by the NAMGBR executive from the input from coordinators, registrars, and members.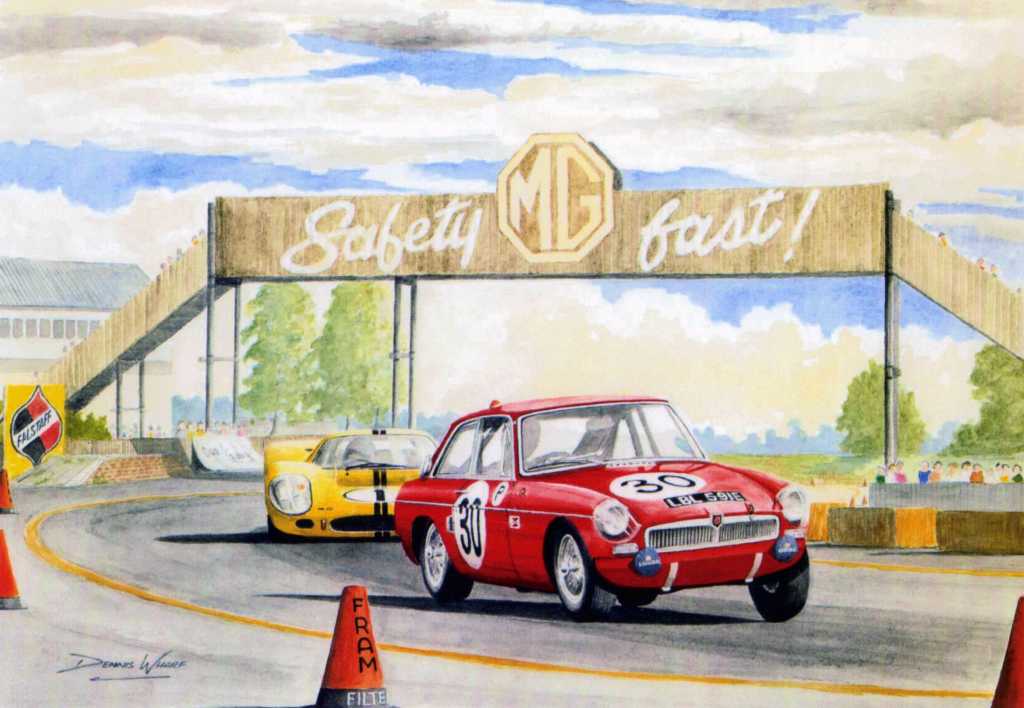 MG Car Club – Recognition for Clubs with most attendees at MG 2016
USA: Emerald Necklace MG Register – link to their club website: http://www.mgcleveland.com
Canada: MG Car Club of Toronto – link to their club website: http://www.mgtoronto.com
NAMGBR Concours
After this event, the NAMGBR Concours class at conventions was retired.
Top Point – Dennis Cestra 1964 MG Midget – Black
2nd Place – Honorable Mention (Due to an oversight/misunderstanding, this year 2nd place got Honorable Mentions and 3rd place were given Awards of Excellence)
Simon & Tara Dix 1977 MGB – Roadster – Flamenco Red
Judy Jones 1995 MG-F – Flame Red
3rd Place – Award of Excellence
Janene Willey 1967 MGB-GT Tartan Red – All Original
Ryans Looft 1967 MG-1100 Canought Green
Certificate of Merit
Robert and Teresa Unfrug 1972 MG Midget – Black Tulip
Rhonda and John Wild 1973 MGB Roadster – Blaze Red
NAMGBR MG 2016 Class Results
Class 401: MGB Mk I (1962-1965 Pull Handle) – 6 cars
1st – David Holland, Bowling Green, KY
2nd – Bob Strathman, Chesterfield, MO
3rd – Duane Petersen, Winnsboro, TN
4th – Brian Bailey, Tulsa, OK
Class 402: MGB Mk I (1965-1967) – 14 cars
1st – Tony Shoviak, Waterville, OH
2nd – Dave Estell, Mason, OH
3rd – Robert Kerstetter, Mishawaka, IN
4th – Paul Lentz, Tustin, CA
5th – Robert Orr, Ridgeville, IN
6th – John Schroeder, Downers Grove, IL
Class 403: MGB Mk II (1968-1969 Chrome grille) – 16 cars
1st – Ned Shields, Owings, MD
2nd – Dave Kray, Williamsville, NY
3rd – Vincent Anderson, Evansville, IN
4th – Craig Perry, Severance, CO
5th – Gary Perrault, Butler, NJ
6th – Judith Heck, Kingston, GA
Class 404: MGB Mk II (1970-1972 Recessed grille) – 49 cars
1st – Skip Peterson, Kettering, OH
2nd – Gloria Ciarrocca, Lancaster, PA
3rd – Everett Rainer, Dublin, OH
4th – Bill Gillson, Marietta, GA
5th – Jennifer Orum, West Vancouver, BC
6th – John Moore, Mechanicville, NY
Class 405: MGB Mk II (1973-1974 Honeycomb grille) – 43 cars
1st – Ron Parks, Springfield, OH
2nd – Bob Bentzinger, St Louis, MO
3rd – Joel Martin, West End, NC
4th – Stephen Roush, Hebron, KY
5th – Rick Shields, Dayton, OH
6th – Dennis Taylor, Corunna, ON
Class 406: MGB Mk III (1974 1/2-1976) – 17 cars
1st – Pete Cosmides, Moorestown, NJ
2nd – Keith Vezina, Kenner, LA
3rd – Ron Kuhnau, Rockford, IL
4th – Jeffrey Leachman, Louisville, KY
5th – Trevor Whitehouse, Orleans, ON
6th – Jeremy Kinsey, Lake Geneva, WI
Class 407: MGB Mk IV (1977-1978 early) – 39 cars
1st – Douglas Walling, New Bern, NC
2nd – Walt Murphy, St Louis, MO
3rd – Hank Largey, Wylie, TX
4th – Richard Lunney, Huntersville, NC
5th – Glyn Reedman, Whitby, ON
6th – Todd Steeves, Ottawa, ON
Class 408: MGB Mk IV (1978-1980 late) – 43 cars
1st – Barry Humphrey, Hingham, MA
2nd – George Barbari, Tonawanda, NY
3rd – Art Shippey, Maumee, OH
4th – Alan Tucker, Hanover, PA
5th – Steve Ratcliffe, Gainesville, GA
6th – Joe Scarlett, Monroeville, PA
Class 409: MGB LE (1979-1980) – 18 cars
1st – David Handley, Strongsville, OH
2nd – Suzanne Snyder, Sterling Heights, MI
3rd – Kathy Goodman, Beavercreek, OH
4th – Ed Haas, Nazareth, PA
5th – Len Kosatka, Avon Lake, OH
Class 410: MGB/GT (1965-1971) – 27 cars
1st – John Colwell, Old Hickory, TN
2nd – Arthur Colwell, Magnolia, TX
3rd – Steve Kirby, Escondido, CA
4th – Geoffrey Dix, Ottawa, ON
5th – Kenneth Martin, Phoenix, AZ
6th – Daniel Bosso, Buford, GA
NAMGBR MG 2016 Class Results
Class 411: MGB/GT (1972-1974) – 25 cars
1st – Bruce McQuaid, Dallas, TX
2nd – Dennis Pennington, Irwin, PA
3rd – Gene Johnston, Ridgeland, MS
4th – Scott Croxford, Sheffield Village, OH
5th – Robin Meier, Johnstown, OH
6th – James Kerr, London, ON
Class 412: MGB/GT (1974 1/2) – 5 cars
1st – James Schulte, Harleyville, PA
2nd – Gilbert Dupre, Chattanooga, TN
3rd – Greg Glassner, Strongsville, OH
4th – Mike Hume, Marysville, OH
5th – Mark Davidoski, Virginia Beach, VA
Class 413: MGB GT V8 (Factory 1973-1976) – 4 cars
1st – Terry Looft, Wilmington, OH
2nd – Andy York, Whitestown, IN
3rd – Phil Marcell, Plano, TX
4th – Terry McClain, Charlotte, NC
Class 414: MG Modified (V8, V6, etc.) – 38 cars
1st – Chris Vandelinder, Westerville, OH
2nd – Jai Deagan, Eaton Rapids, MI
3rd – Ryan Looft, Wilmington, OH
4th – Brian Goldsmith, Treynor, IA
5th – Steven Ward, Dallas, TX
6th – Barry Glass, Plano, TX
Class 415: Midget/Sprite (1961-1974) – 18 cars
1st – Ralph Brown, Wanaque, NJ
2nd – Danny Jones, Scottsburg, IN
3rd – Jack Orkin, Grayson, GA
4th – George Chase, West Chester, OH
5th – Andrew Hardie, Calgary, AB
6th – Ian Macnab, Haliburton, ON
Class 416: Midget 1500 (1975-1979) – 7 cars
1st – Paul Stedman, Palm Bay, FL
2nd – Henry Leible, Lockport, NY
3rd – Jeffrey Sigrist, Zanesville, OH
4th – Kim Tonry, Downers Grove, IL
5th – David Shorten, Prospect, KY
Class 417: MG 1100/1300 (all years) – 1 car
Ryan Looft (participated in the Concours)
Class 418: MGC Roadster (1968-1969) – 7 cars
1st – Gary Brown, Covington, VA
2nd – Dana Rindge, Amston, CT
3rd – Brian Hajek, Columbus, OH
4th – Bob Kristof, Maineville, OH
5th – Dan Kerkman, Lake Villa, IL
Class 419: MGC GT (1968-1969) – 10 cars
1st – John Rogers, Nevada City, CA
2nd – Craig Cummings, Williamsburg, VA
3rd – Dave Gribler, Vandalia, OH
4th – Phil Collins, Kansas City, MO
5th – Bruce Fehlman, Kalispell, MT
6th – Ben Andrews, Valparaiso, IN
Class 420: Post Abingdon (all years) – 11 cars
1st – Dino Perez, Lake in the Hills, IL
2nd – Bob Riddell, Whitby, ON
3rd – Keith Holdsworth, Markham, ON
4th – Richard Wallrich, Ramsey, MN
5th – Ken Deleeuw, Ormond Beach, FL
Chairman's Award
Neal Francis, Moncks Corner, SC – 2004 MG SVS
Class 501: Other British (before 1986) – 10 cars
1st – Michael Long, Franklin, TN
2nd – Clifford Wilson, Floyds Knob, IN
3rd – Russell Mills, Louisville, KY
Class 502: Other British (after 1986) – 6 cars
1st – Jim Duke, Memphis, TN
2nd – John Reynolds, Memphis, TN
3rd – Oscar Gonzales, Huntley, IL